Serving & Supporting Tampa Palms
There are two organizations that work to provide the lifestyle enjoyed by Tampa Palms residents. They are:
- The Tampa Palms Owners Association (TPOA) - owner support services
- The Tampa Palms Community Development District (CDD)- infrastructure and maintenance
services. (See link to the left)
The TPOA is both the standards bearer for Tampa Palms and the organization that coordinates activities for Tampa Palms facilities.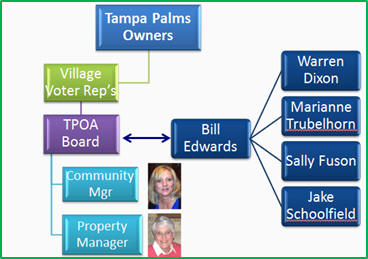 To contact Board Members click here.
Community Director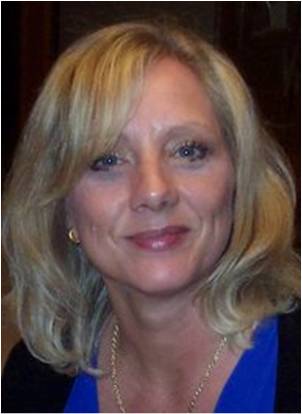 Jo Ann Conrad is the Tampa Palms Community Director. Jo Ann oversees the community facilities in Tampa Palms (both TPOA and CDD). Jo Ann can be reached at 977-3337 (JConradTPOA@aol.com).
Property Manager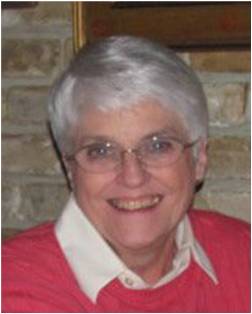 The TPOA property manager, Bonnie French, is a licensed Community Association Manager (CAM) who oversees owner adherence to the Tampa Palms standards and assists owners in compliance.
Bonnie can also be reached at 977-3337. (TPOAMAIL@aol.com)
Tampa Palms Owners Association is a homeowner association created under Florida law to maintain the ambiance enjoyed in Tampa Palms. It has an umbrella series of covenants (Declaration of Covenants Conditions and Restrictions – CCR's - and Community Development Code – CDC LUS) that are intended to guarantee Tampa Palms land use and property values. These rules apply to ALL villages in Tampa Palms, even if they have their own homeowners sub-associations.
Voter Representatives
Each village and commercial entity elects a voting member to represent the village's interests to the TPOA. The Voting Rep must be a Tampa Palms owner in that village, proxies are not permitted by the By Laws. For more information about voting members, the general meetings or how to contact the voter rep for your village, click here.
Tampa Palms Owners Association, Inc. (TPOA)
16101 Compton Drive
Tampa, Fl 33647
813 977-3337